Malden Neighbors Helping Neighbors - Mailer
One of the key challenges in organizing a citywide mutual aid network is getting the word out! When the city stepped up to sponsor a mailer, I couldn't help but get excited to flex my print design skills on a project that would be delivered to thousands of mailboxes.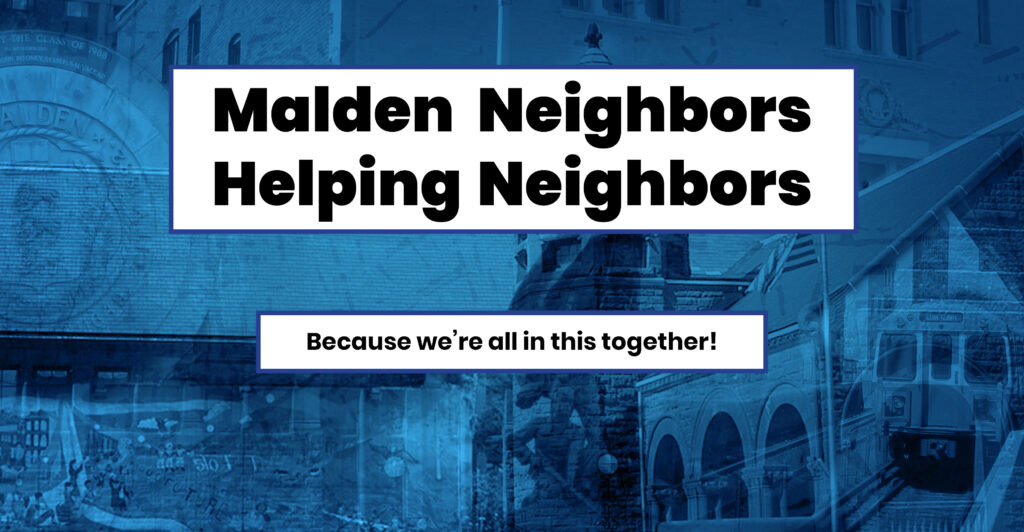 This rambling and incomplete collage of Malden sites had been sitting on my hard drive for a while before it found its rightful home here. The Converse Library, the old Odd Fellows Building, the new mural under the trains, the statue at Bell Rock Park, the seal in front of the High School, and an Orange Line train all come together in a beautiful jumble. The text is strong and bold over clean white rectangles to ensure legibility, and to ensure they are not lost visually in the very complex background image.
When creating a mailer, ensuring that the address area is not obstructed is the top priority. With that squared away, it comes down to conveying information clearly, and without looking like another piece of junk mail.
The content here was derived from an earlier poster design, using visual icons to represent key items and services. The strong "Do You Need Help?" heading in ultra bold type is a core carryover from the posters, calling attention quickly to the content and the fact that we are not selling anything!
As always when working in print, it's better to give keywords for Facebook groups, rather than a url. Many Facebook users only use the phone app.